About the Lease Kit – 2018 Edition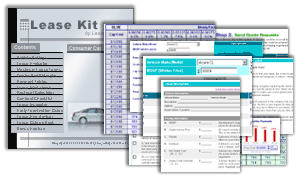 The Lease Kit extends our Lease Guide and contains over a dozen different essential online tools, special calculators, tables, sample lease contract, and much more that are needed to prepare, evaluate, and transact an actual car leasing deal — whether it's getting into a lease or getting out.
The Lease Kit is clearly organized and explained so that it can be easily used by anyone who is considering leasing — or is already leasing.
It's a unique set of proven leasing aids available only from LeaseGuide.com that you won't find elsewhere on the Internet, in books, or anywhere else for that matter. You access it online just like you're reading this web page right now, so you can use it anywhere you have a computer, laptop, tablet, iPhone or any other smartphone — even on a smart TV —  when connected to the Internet.
And it's 100% satisfaction-guaranteed.
You can access your
Lease Kit
at
www.LeaseGuide.com/leasekit-home
, where you'll be asked to enter your Registration Code (you only need to enter it once regardless of how often you use your Kit).
Enter your registration code in lower case only.
If you need your Lease Kit Registration Code, send your name, email, and approximate purchase date to
contact @ leaseguide.com.
Lease Kit Features
Vehicle Lease Ratings – See which car makes/models are best to lease — and which are worst. Get the best lease deals on those vehicles shown in the "Best" column
Lease Evaluator Calculator – Determine whether a lease deal is good or bad, or just average, for any vehicle make/model. Simply plug in your numbers and get the detailed answer instantly
Max Lease Terms – Don't lease for longer than the factory warranty. Find the recommended maximum lease months for any car make/model to avoid unexpected out-of-warranty costs
Dealer Profit Margins – Find maximum dealer profit margins on all vehicle makes and models. Knowing profit margins allows you to set your price negotiating range to get the best lease deal
Lease Payment Tables – Create and print lease payment tables if you prefer not to use a calculator. Carry printed tables with you when you visit your dealer to discuss lease deals
Lease Worksheet – Use this handy printable worksheet to guide you in calculating monthly lease payments when you are not near a computer. Also includes an MS Excel worksheet
Residual Calculator – Find average lease-end residual values and percentages for any vehicle make/model. Compare average values to the actual values you receive from a dealer
Sample Lease Contract and Contract Checklist – See what is contained in an actual lease contract, and use the checklist to make sure your contract is accurate before you sign
Lease Inspector – Used after you lease to determine if your payment was calculated correctly and if you got a good deal — using numbers directly from your lease contract
Early Termination Guide – If you need to end your lease early, learn about all your options, explained in detail. Some options will be better than others for each individual situation
Lease-End Advisor – You have a number of choices for how you handle the normal end of your lease. Learn how to make the best choice for your particular case
Affordability Calculator – Determine how much car you can afford to lease based on the monthly payment amount you can afford. Don't get in over your head
Lease Guide eBook – Download the entire 15-part Lease Guide in one easily readable and printable eBook document. Print it and read it in bed or on the plane
3-Step Lease System – Proven step-by-step system for requesting car lease quotes from dealers via fax or email to get the best deals with minimum stress and strain
Easy purchase and ready to use online
When you purchase the Lease Kit, you'll be given a registration code to begin using it online, instantly, anytime you want, wherever you want, for as long as you want. There's nothing to download and install, and no reason to wait for the mail to arrive. It's all online. Simply access it using your computer, laptop, tablet, or smartphone web browser. You'll get updates automatically every time you use it.
Thousands of users
The Lease Kit has many thousands of satisfied users in the US and Canada who have used it to help them get good car lease deals. It has been continually improved and updated since it was first introduced. The latest version is now online.
Many of our loyal customers tell us they are using their automatically updated Lease Kit for their second, third, or even fourth car lease since originally purchasing it years ago. Some have told us they are using their Lease Kit on their Internet-connected laptops or tablets to analyze lease deals right in the dealer's showroom.
"Armed with your Lease Kit, I caught two mistakes in the calculation of my monthly payment. I sat in the finance office and calculated the right payment step by step by hand and explained the formula I was using as I went. Being able to knowledgeably challenge the dealership's calculations saved me $1795 over the course of my 36 month lease. Well worth the small amount of money I spent on Lease Kit! Thank you for a great program that gave me the knowledge and confidence to challenge the numbers that were initially given to me!" F. B., Louisiana
---
" I would like to thank you for your excellent Lease Kit. I have leased vehicles before, but this is the first time I feel certain I got a good deal. Your kit makes leasing transparent and easy! You saved me a lot of money! Thanks a lot!" Markus Emig, Kentucky
---
Just an FYI …..the money I just spent on your guide [Lease Kit] saved me $3,276.00 over the term of the lease. Keep up the GREAT work." – J. Spencer
---
" Although I had considered myself knowledgeable about leasing and able to get a good deal, I became frustrated after four days of dealing. I then found your website and invested in your Lease Kit. That investment has returned me over $6500.00 in savings …" Steven – aol.com
---
" I am writing to inform you that your Lease Kit saved me $1919.16 in total lease payments for a 36 month lease I just negotiated …" Thomas E. Hooper, CPA
---
" It felt great walking into a dealership and knowing the parameters of my lease deal and actually understanding what was going on! Best investment! " "abse" – ZoomInternet
---
" Best money I ever spent. Took delivery today of a Chevrolet Impala with a MSRP of $23340. After chasing me around for a week, dealer gave it to me for 16345 Net CAP. Residual of 9660, depreciation of 6775, and he threw in the 4th year warranty extension. Counting a few minor fees, came out with a payment of 155.92 plus sales tax and excise tax, and a lease end buyout 9660 – all because I used the Lease Kit and went in as an informed consumer. Many thanks – your kit probably saved me thousands of dollars. " Jim Smith – rcn.com
---
" I was skeptical about it at first, but the Lease Kit was definitely worth purchasing! The price of your kit is peanuts compared to the great insight it has given! Thanks." Stephanie – usa.net
---
" Thank you. The Lease Kit has saved me a considerable amount of money, for the price of a few gallons of gas." Jim C. – Charter.net
---
" I purchased your Lease Kit on Saturday after getting confounded by various auto dealers and their tactics … With the Lease Kit, reading your step-by-step instructions made the whole process come together for me. I was able to evaluate the deals and separate the good ones from the mediocre … So thanks a lot for the lesson learned. The kit is well worth the small price." Phil Sidotti – home.com
---
" I LOVE your Lease Kit! I saved about $45/month thanks to you! " Andy Parkinson – jetlink.net
How the Lease Kit Helps
Planning a lease?
Do you know which specific auto makes/models make the best — and worst — leases? [Vehicle Lease Ratings]
Do you know which vehicle makes/models you will be able to afford to lease? [Affordability Calculator]
Do you know what would be a fair monthly payment for the car you're considering leasing? [Lease Evaluator]
Do you know exactly what figures and information you need when shopping for lease deals? [Lease Worksheet]
Will you know what an actual lease contract form looks like before you are asked to sign one? [Lease Contract / Checklist]
Do you know how to get estimated lease-end residual values for planning your lease before you visit a dealer? [Residual Calculator]
Do you want a complete print-friendly version of our Lease Guide in book format? [Lease Guide Book]
Do you know how to get dealers to e-mail or fax you competitive lease quotes without visiting the dealer first? [Bonus Feature]
About to lease but not sure about details?
Do you know how to determine whether a lease deal offer is good or bad, and how it rates? [Lease Evaluator]
Do you know how lease payments compare to loan payments for the same vehicle? [Lease Payment Tables]
Do you know how to quickly determine and verify a dealer's payment figures if you're not comfortable with the math or don't have a computer with you as you shop? [Lease Payment Tables and Lease Worksheet]
Do you know which vehicle makes/models have the most price bargaining room? [Dealer Profit Margins]
Do you know the longest lease term, in months, that you should agree to for the vehicle you're considering? [Max Lease Terms]
Do you know all the critical items in your lease contract that you should check for before you sign and commit to a deal? [Lease Contract / Checklist]
In a lease now?
Do you know how to use the figures right from your lease contract and evaluate your deal — good or bad — and whether dealer mistakes were made? [Lease Inspector] [Lease Contract /Checklist]
Do you know how to determine if you should buy out or purchase your leased vehicle before the normal end of your lease? [Early Termination Guide]
Do you know what steps you should take before the end of your lease — especially if you're facing excessive mileage or wear and tear charges? [Lease-End Advisor]
Ending a lease?
Do you know each of the possible options for ending your lease early, and how to determine which method is best for your particular lease situation? [Early Termination Guide]
Do you understand the important legal language in your lease contract that deals with ending a lease? [Lease Contract / Checklist]
Do you know how to determine if buying your car at the end of your lease makes sense? Or selling? Or trading? Or returning? Or extending? [Lease-End Advisor]
Immediate online access using your Internet browser
Easy to use with complete instructions, explanations, and examples
Can be used with any PC, Mac, SmartTV, tablet, or smartphone with a WiFi or Internet connection
No waiting for CD-ROM shipments or mail delivery
No file downloads or installation steps required
All features and results can be printed for easy off-line reference
One-time charge, no subscription fees, no renewal fees
Lifetime access, anytime, as often as needed
Future updates and new features are automatic and free
Extra bonus feature included: Dealer lease quotes via e-mail/fax
Complete Lease Guide ebook, all articles, print-friendly version
100% money-back, no questions asked, no-risk guarantee
Get the Lease Kit Now !
The price of the Lease Kit is still only $19.95, one-time payment, lifetime use, automatic free updates, and a 100% money-back guarantee. You'll be using your online Lease Kit in just a couple of minutes. Nothing to download.
Your credit card payment will be processed securely by PayPal for $19.95 You do not need a PayPal account to use your card. There are no additional charges or fees.
You'll receive two emails : a receipt email from PayPal and a separate email with your Lease Kit access registration code.
If you fail to receive your two emails within a few minutes, please contact us at contact @ leaseguide.com immediately. If you have a GMAIL.COM email address, please read the notice below.
Please make sure your email address is correct and that your SPAM filter doesn't prevent our emails from reaching you.
PLEASE NOTE : If you have a GMAIL.COM or YAHOO.COM email address, these free email systems frequently prevent our automatic email with your registration code from reaching you.  If this happens, contact us at contact @ leaseguide.com and we will resend your information

 – OR –

If you use the GMAIL.COM web site, check for our email in your SPAM folder — on the left side of the screen, click on the "More Labels" down arrow, and click on your SPAM folder.

 
Is the Lease Kit up to date?
Yes, the contents and data in the Lease Kit are updated as required, which can be about every two weeks during the most active part of the automotive year (September-November). Otherwise, it is updated about every couple of months.
Each time you use your Kit, you'll automatically get the latest data, regardless of when you purchased.
What vehicles are covered by the Lease Kit ?
If you are considering a new car lease, plan to lease, or have recently leased, you can click the Lease Kit Vehicle List to make sure it covers your vehicle make and model before you purchase the Lease Kit.
Note: If you are ending a lease early or coming to the normal end of your lease, your vehicle make and model do not matter. Our Early Termination Guide, Contract/Checklist, and Lease-End Advisor, in our Lease Kit, are not dependent on the specific type of vehicle. So don't be concerned if your vehicle is an older model that is no longer in our list.
Still have questions?
See our Lease Kit Frequently Asked Questions, or
Contact us with your questions at contact @ LeaseGuide.com