Rebuildable and Repairable Wrecked Cars
Find repairable vehicles and project cars for great bargains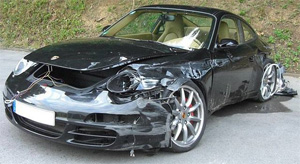 As an alternative to leasing a brand new car, wrecked, flooded, or damaged cars are often repairable and can make cheap daily drivers or project cars for buyers willing to make the necessary repairs. Properly rebuilt cars can be just as reliable and safe as any other car. Salvage cars can be a great opportunity to save money and have a little fun too.
Where do repairable salvage cars come from?
Insurance companies often declare accident-damaged wrecked vehicles or flood-damaged vehicles as total losses rather than pay for repairs. The typical rule is that if they estimate the cost of repairs will exceed 70%-75% of the replacement value, then the vehicle will be "totaled."
Rules can vary by state. In many cases "distressed" vehicles are not rebuildable at all and may be only good for parts. However, in other cases, distressed vehicles have damages that can be easily repaired and restored to full safe operational condition.
In cases such as those in which a large number of vehicles are damaged at the same time, as in a flood, tornado, hail storm, or hurricane, an insurance company may survey only a few vehicles and then, to save time and expense, declare large groups of similar vehicles as total losses even though some of the vehicles may have only minor damage, or no damage at all.
Some salvage vehicles have little or no damage
Oftentimes there are vehicles among those that are flood damaged or hail damaged that actually have only superficial problems or minor damage. In some states all these vehicles would end up with salvage or flood titles, regardless of actual condition. Repairing such vehicles may only require some minor body work and paint — or perhaps simply cleaning the carpets — or nothing but a good wash and shine.
Salvage vehicles can also be recovered theft vehicles, fire-damaged vehicles, and vandalized vehicles — all written off ("totaled") by insurance companies. Recovered theft vehicles may have no damage at all and can be in near-perfect condition.
Salvage and damaged cars can make good cheap project cars for those who like the challenge of repairing and rebuilding.
What happens to wrecked and damaged cars?
They go to salvage auctions or to salvage dealers.
Insurance companies sell wrecked, recovered, flooded, and damaged vehicles at salvage auctions where they can be purchased by individuals, used car dealers, and rebuilders. In many states, the vehicle title is marked "salvage" or "rebuilt salvage." Other states have no salvage title laws at all, which means a wrecked vehicle can be repaired and put back on the street with a clean title.
Since cars are wrecked every day, salvage auctions are conducted on regular schedules by professional auction companies in cities in every state. Most are open to the public.
Such auctions are good place to pick up repairable cars – and project cars – but remember that there will other people attending and looking for good deals too.
Some auction attendees are professional (or not-so-professional) rebuilders who make a business out of repairing and reselling salvage vehicles for good profit.
Some dealers such as Elite Rebuildable Cars in New York specialize in selling salvage vehicles. Here's what they say:
"Elite Rebuildable Cars is the premier source for repairables with over 18,000 rebuildables sold to date. We provide late model foreign and domestic auto salvage cars, trucks, s.u.v.'s and motorcycles with various damage conditions. These damaged vehicles include fresh water floods, recovered thefts, collision damage, fire, vandalisms and many repossessed vehicles. Our experienced auto salvage buyers purchase these repairables from insurance companies nationwide, to provide our customers with quality salvage vehicles at the lowest prices available."
When an insurance company pays a claim for a vehicle that has been stolen, the owner assigns the title to the insurance company. The insurance company becomes the owner of the vehicle. If the vehicle is recovered, the insurance company must apply for a salvage title if one or more major component parts are missing, destroyed, or damaged and not salvageable. This applies even if the estimated cost of repair is less than 75% of the vehicle's fair-market replacement value.
Buying rebuildable and repairable cars
Buying wrecked or damaged cars can be risky if you don't know what you're doing. It's difficult in many cases to be able to determine the full extent of the damage or estimate the cost of repairs. Vehicles that may seem drivable may actually have hidden damages that could be costly to fix. What initially seemed like a great deal might turn out to be just the opposite.
Get the details on how and when a car became salvage with a CARFAX vehicle history report.
There can also be safety problems. Airbags may be missing or disabled. Anti-lock brake systems may not work. Seat belts may have become unsafe. Warning indicators may not work. Steering system and wheel alignment may be damaged. The vehicle's frame may be bent.  Make sure you look for these potential problems before you buy.
Summary
If you think you might want to save money by buying and repairing a damaged or flooded car, or you need a good project car, make sure you know what you're getting and what it will cost you to do the repairs. Make sure all safety equipment is fully restorable and that the vehicle will meet state emissions requirements.
Also make sure you can get a title in your state and that your state has an inspection process that will allow your vehicle to be driven after it has been repaired. Check with your state DMV. Most have web sites with the information you need.