Buy repairable salvage, flooded, and damaged vehicles at bargain prices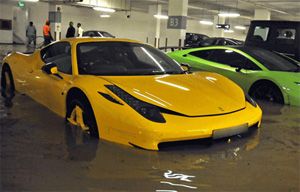 Along with hurricanes, floods, hail, and tornadoes come destroyed and damaged cars, trucks, and other vehicles. Some are new cars that have been hail-damaged, wind-damaged, or flooded while sitting on dealer lots. Others are used cars that had been owned by individuals, dealers, and businesses.
Many of these vehicles have been totaled by insurance companies– written off as total losses but available for purchase. These become "salvage" vehicles, a legal term used by most states for such vehicles.
Flood damaged cars or weather damaged cars are often written off – "totaled" – by insurance companies as complete losses which, in effect, invalidates the titles since the vehicles don't legally exist any longer. However, since many of these vehicles are actually repairable and can be reasonably cleaned up, they can return to life as rebuilt salvage vehicles.
Salvage vehicles are sold at to rebuilders and the public at salvage car auctions.
Salvage cars and flood damaged cars can, at the same time, be both great opportunities or great problems. Rebuilding salvage vehicles can be a rewarding endeavor, or even become a profitable business. However, if you're simply in the market for a good used car and are unknowingly sold a vehicle with hidden damage, you will be very disappointed, to say the least.
Damaged and salvage vehicles also make good project cars. If you are interested in the business of "flipping" cars, such vehicles can be repaired and resold, subject to state laws, at great profit.
What's a salvage title?
Salvage cars are those that have been damaged or totaled, paid off (and therefore purchased) by insurance firms, who then can sell these cars to individuals or dealers who want to restore them. In many states, it is required that such vehicles have a "salvage" title. Other states allow a new "clean" title without salvage status, or allow clean titles on older cars that would otherwise be tagged as salvage. Unscrupulous sellers can "wash" and hide a salvage title by moving the car from a salvage-title state to a clean-title state.
States that do not record salvage vehicle titles are Arizona, Arkansas, Illinois, Indiana, Kentucky, Maine, Michigan, Mississippi, Missouri, North Dakota, Ohio, Rhode Island, Texas, Vermont.
If you're going to be in the market for a used car, or even a new car, in the months after a major natural weather event such as a hurricane, flood, tornado, or hail storm, you should take extra caution when shopping, unless you are specifically looking for damaged cars to fix up and drive.


It's amazing how easily and quickly a storm-damaged car from Mississippi can show up for sale in Oregon with no indication that it may be hiding serious problems for a new buyer. Therefore, general automotive consumers should be on the lookout for flooded or storm damaged vehicles.
To spot flood damaged vehicles, look for signs of water damage under the hood, under the seats and carpets, under the dash, and in the trunk. Beware of musty odors, or attempts to cover such odors. Look for rust on parts inside the vehicle and signs of repairs. Although not a perfect system, buyers should always get a vehicle history report, such as those offered by CARFAX Vehicle History Reports . Salvage vehicles will usually appear on those reports. Another place to check for VIN numbers of cars damaged in hurricanes and floods is the National Insurance Crime Bureau.
What's the opportunity? Can salvage cars be repaired and rebuilt?
Serious weather events that damage and destroy cars also present an opportunity for people who want to pick up great bargains, especially with repairable and rebuildable vehicles that have been declared total losses by insurance companies.
As long as you know what you are doing, some outstanding deals can be had. Many of these vehicles are easily repairable and can be made good as new at very little cost. Most can be found at special salvage vehicle auctions, which can be attended by anyone.
Many times, batches of weather affected vehicles have been declared total losses even though the insurance adjustor did not take the time to go out and inspect each vehicle in detail. When this happens, some of the cars will have only minor damage and can be easily restored to perfect condition.
For example, a new-car dealer may have had 400 cars flooded or damaged in a hail storm. The adjustor can't inspect all the cars but knows that at least 75% of the cars have serious damage and declares them all as total losses. This means that as many as 100 of the cars may have little or no damage, and can easily be cleaned up and made  perfectly normal.
Since the insurance company owns the vehicles after claims have been paid, the company can auction off the vehicles to the public, or resell them to the same, or another, dealer.
Honest sellers and dealers will properly disclose previously damaged cars and sell them for good prices. These can often be real bargains for buyers who are looking for cheap cars. Just be aware that if the car has a salvage title, it will usually appear on vehicle history reports, such as those from CARFAX, and may be of concern to future buyers should you decide to sell the car in the future..
What's the bottom line?
As with most things in life, if you go into buying storm-damaged cars or salvaged cars being properly informed and using appropriate caution, you'll avoid serious mistakes and might even find some terrific bargains. Rebuilding and repairing damaged vehicles can be very rewarding and may save you thousands of dollars. Such vehicles make great project cars.