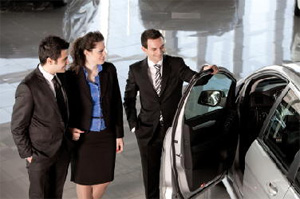 Cars have become much smarter and safer in just the last few years with safety features that are sure to save lives of drivers and passengers. Parents are especially appreciative of the these features that help protect their "precious cargo."
It's important to note that automobile safety features fall into two categories: 1) those that help survive an accident, such as airbags, and 2) those that help prevent an accident, such as a collision avoidance system.
Buyers, especially parents, are often caught in a dilemma. Do I buy an older cheaper car and save money for other things the family needs? Or do I buy a newer car with the most recent safety improvements to help protect my family?
Let's take a look at the safety features now available. Some, such as basic airbags, are standard on all cars. Some are only available as standard on some makes and models. And others are optional and usually cost extra if you want them.
Car Safety Features
Airbags – Front driver and passenger airbags have been around for years and are standard equipment. However side, knee, and curtain airbags are newer and are not in older cars.
Electronic Stability Control (ESC) – Electronically monitors whether a car is sliding or losing control and automatically makes braking and engine adjustments that helps straighten the car out. It is standard on all cars as of 2012. Older cars may have it as well.
Anti-Lock Brakes – Electronically detects when a car is sliding when the brakes have been applied, and modulates the pressure on the brakes to help regain traction. Most cars now have anti-lock brakes but older models may not.
Backup Camera – Backup cameras have been around for some years but are now much improved with the ability to detect and warn of other cars approaching, such as in a parking lot.
Blind Spot Warning – Usually a light and/or warning sound when another car is in the "blind spot" area on the left and right rear quarter of your car, such as on a multi-lane highway, where the car's mirrors are usually "blind" to those areas. It helps prevent a lane-change accident. Currently, this feature is usually an extra-cost option and has only been around for a few years.
One of the benefits of leasing is that you get a new car every 2-4 years with all the latest safety equipment
Heads-Up Display — Although tried out (and failed) by Cadillac many years ago, this feature has now been perfected and is available as an extra-cost item on many car makes and models. It allows viewing of a vehicle's speed, navigation directions, and other readings without looking away from the road ahead. The readings are displayed in the bottom of the windshield as if floating in air.
Tire Monitoring System – Many newer cars have an electronic tire pressure monitoring system by which all four tires, and often the spare, are monitored for lower-than-recommended inflation pressure. A tire with low pressure due to a leak or neglect is a huge accident hazard. Many new systems show the actual pressure in each tire on a dash display.
Hands-Off Voice Controls – Although voice controls have been around for a while, they are now much improved and more reliable. They allow the use of a smartphone, control of climate system, navigation system, and other functions while keeping hands on the steering wheel where they belong.
Other more recent safety features now available on new cars are: Lane Departure Warning System, Adaptive Cruise Control, Collision Avoidance Systems, Adaptive Headlights, Driver Nodding-Off Detection, and improved Child Seat Attachment Systems.
Summary
Making a decision between buying a new car with all the latest safety features and saving money with an older car is not an easy decision to make, especially for parents of young children as passengers, or for parents of  inexperienced teen drivers in the family. One factor that might help with the decision is that auto insurance companies offer significant discounts for the new advanced safety features. Otherwise, advanced safety features only make sense in those frightful moments when you really need them.
Challenge your smart child's mind with smart toys, games, and puzzles from Smart Stuff for Smart Kids.