Public Car Auctions for Cheap Cars
Is it possible to get good deals at public car auctions?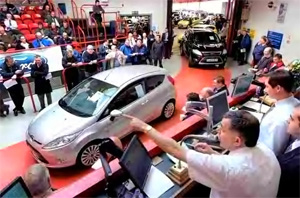 Yes. It is very possible to get good deals on used cars at public car auctions. But you have to know where to find them and how to participate.
Types of public car auctions
A great many car auctions allow only licensed car dealers to buy. However, other auctions are also open to the public and can be a source of good cars at good prices.
The most common type of car auction are those conducted by professional auction companies. Some are large with locations around the country, such as Manheim and ADESA. Others are small local or regional companies. Some are conducted by local towing companies. Other auctions are conducted by police departments or other local and national government agencies, such as the U.S. General Services Administration (GSA).
Auctions can vary in terms of the type of vehicles and source of vehicles. A specific auction might be only for high-end exotic cars, or heavy trucks, or repossessed vehicles, or unclaimed vehicles, or police seized vehicles, or government vehicles.
How do I find public car auctions?
Many of the larger auctions companies, such as Manheim, have web sites on which they announce upcoming public auctions in locations across the country. Regional and local auctions are usually advertised in newspapers or local TV ads. Federal and local government auctions are usually announced in local or national newspapers. If there are a number of local newspapers, the announcements will only be in one of those papers. Announcements typically appear on a specific schedule, such as on a particular Friday each month.
Some auction announcements may provide a detailed inventory list, including vehicle descriptions and VIN numbers. Others are less detailed, or provide no detail at all.
See the newest wheel styles for your car at Tire Rack.!
To find public auto auctions, you should search the web, check your local telephone Yellow Pages, call your local newspapers to get auction announcement schedules, contact your local government agencies, and call local tow companies. It takes a little legwork but the effort can pay off if you find some great bargains.
Get a directory of auctions
Although you can do the work and find auctions on your own, there are online services that offer directories of auctions for a fee. Some specialize in public government auctions, but others are more general.
You'll find these services advertised on the Internet. Some have good up-to-date data, and others do not. If you decide to try one or more of the services, make sure they have a 30-day money-back guarantee.
How do I participate in public car auctions?
Most auctions have a procedure for inspecting vehicles before the auction date or time. Although you won't be able to drive the vehicles, you may be able to start them and look them over carefully. If you don't have the skill to do inspections yourself, you should bring someone with you who can do them for you, and give you advice.
Bring a used-car value guidebook, such as those from Kelley Blue Book and NADA Guides, available in book stores and newsstands — or use a smartphone, laptop or tablet computer to access such sources online. NADA Guides has a section of its site that is specifically designed for the iPhone (iphone.nadaguides.com). You should know what the cars are worth so that you don't overbid.
Also check out the car with an AutoCheck® or Carfax vehicle history report to find out if it has been wrecked, flooded, or has a salvage title. The small cost of a report can easily save you from making an expensive mistake. Access your report at an auction by using a laptop or smartphone. Be sure to set your account ahead of time.
Make sure you understand the rules and procedures of the auction. If the company has a web site, the rules may be posted there. You should attend a couple of auctions just to get familiar with the process and how it works before you come back to actively participate.
If you plan to bid, make sure you have the finances arranged to pay for your winning bids. Many auctions require that you have financial proof in the form of cash, cashiers check, or line-of-credit confirmation. You can get pre-approved for a loan at a bank or at an online auto loan company such as Auto Credit Express. Most auctions require pre-registration, which could require a fee. Some may also charge a buyer's premium on the sale price.
Find Cheap Cars at Government Auto Auctions from Gov-Auctions.org.
Protect yourself
When buying a used car at an auto auction, you are taking a chance that the car has problems that won't show up until later. A relatively small investment in an extended auto warranty from a company such as Endurance Auto Warranty
 will cover you when those problems appear..
Summary
Public car auctions can be a good source of bargains and cheap cars, if you know what you're doing, can control your emotions, and are willing to take some risks.