Is It Better to Lease a Ferrari, Or Buy?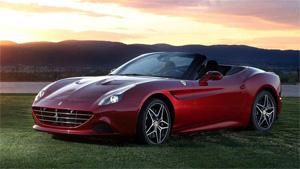 Ferrari is a an ideal lease vehicle due to the fact that lease-end residual values are relatively high compared to the MSRP sticker price.
Combined with even a modest price discount and average finance rate (money factor), lease payments are relatively low for vehicles in this price range.
Enthusiasts of these cars drive relatively few miles and like to trade every couple of years, which makes leasing especially attractive.
Luxury cars and exotics, such as the Ferrari, are leased much more often than other types of vehicles. Leasing can make these vehicles affordable for a large segment of the automotive consumer population that might not otherwise be able to afford one.
Ferrari Lease versus Buy Comparison
We'll take a look at how leasing a typical Ferrari vehicle compares to buying with a loan. Our vehicle will be the popular Ferrari California T, with a base MSRP of about $203,000.  It's a beautiful car — hardtop convertible with four seats and a twin-turbo V8 producing 553 HP and 7-speed auto transmission.
For this comparison, we'll assume a $5000 down payment, 4% APR interest rate (.00167 lease Money Factor), 36 month lease/loan term, and a 60% of MSRP lease residual value ($121,800) for 10,000 miles a year. We'll also assume a lease acquisition fee (bank fee) of $795, which is common for this vehicle.
We'll assume no sales tax for this comparison because the way that sales is paid for a purchase and for a lease are different in most states. With a purchase, it's normally paid up front or included in the loan amount. With leasing, it's paid with each monthly payment (in most states).
Ferrari Loan
Using an online auto loan calculator with the above numbers, we get $5845.75 as the monthly loan payment for the Ferrari California. total cost is $215,447 including interest of $12,447. Monthly payment amount would be lower if the loan were extended to 48, 60, or 72 months.
Ferrari Lease
Using our Lease Calculator with the above numbers, we find that monthly lease payments for this vehicle would be $2649.67. Total cost would be $95,388 including finance charges.
 Conclusions
Comparing lease costs versus purchase loan costs for this Ferrari California shows that, for the same 36 month term, leasing offers monthly payments that are less than half loan payments. Total cost is also less than half. Even when compared to longer term loans, leasing cost is still less.
If you decide to lease this vehicle, be sure you've read our Lease Guide so that you understand how leasing works. You should know that you must stay within the mileage allowance, keep full-coverage insurance, keep you vehicle maintained and in good condition, and that you have no ownership value in the vehicle unless you decide to buy it at lease-end.
You should also know that leasing requires a good credit score. If you don't know your score, you can always find your current credit score online
. It's always a good idea to know your score before you go shopping to avoid surprises from a dealer.