How and Where to Find the Cheapest Cars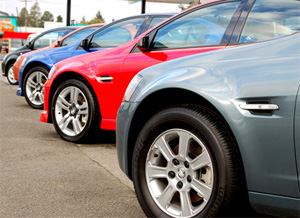 Cheap cars can be found and purchased from a variety of sources. Generally, people who are looking for inexpensive cars are simply attempting to find the best car that meets their needs, at the lowest possible cost.
For those who are looking for affordable cars, there are essentially three categories of options available to them — cheap new cars, cheap used cars, and cheap leased cars.
Let's focus mainly on used or pre-owned cars.
Used cars at low prices are available from dealers, individuals, auctions, and on the Internet. Considerable care must be taken when buying pre-owned cars because most are sold "as-is" and will come without a guarantee or warranty. Certified cars, usually sold by new-car dealers, are previously-owned cars that have been inspected and come with short warranties, but can be more expensive.
Best places to look for cheap cars
Used-Cars at New-Car Dealers
– Most new-car dealers typically sell both new cars and pre-owned cars. Although inexpensive cars can often be found on these lots, most new-car dealers only offer late-model used vehicles that have been taken in trade or are off-lease, and are in good condition — and are relatively expensive. Older, less expensive vehicles are usually sent to auction to be purchased by independent used-car dealers (see below) and BHPH dealers (see below). Therefore, check your local new-car dealers when looking for a car but also look at other sources listed below.
Independent Used-Car Dealers
– Independent used-car lots (not associated with a new-car dealer) are a potential source of affordable second-hand cars. Many lots have older vehicles that can be real bargains — or not. Proper caution should be taken to determine if the price is fair and that the vehicle has no hidden problems. Most used cars are sold "as-is" and come without any kind of warranty or return policy. See
Buying a Used Car
for more details.
Consignment Lots
– Many towns and cities have used-car consignment lots which can be a good source of inexpensive vehicles. Sellers display their cars-for-sale on the consignment lot for a fee. Lot managers are often authorized by car owners to negotiate prices with potential buyers, or buyers may be directed back to the seller to discuss prices.
Buy-Here-Pay-Here (BHPH) Dealers
– This is a special type of independent used-car dealer that provides in-house financing, usually with no credit check. Most BHPH dealers are local and can be recognized by their "we finance anyone" or "no credit check" banners. Be aware that their cars are often overpriced, not in great condition, and  interest rates are usually very high with strict payment terms. Use extreme caution when buying from this kind of dealer.
National Used-Car Dealers
– If you live in an area that has a
Carmax
car superstore, this is one of the largest, most reputable used-car dealers in the country, and a good source of fair no-hassle deals — although not necessarily the cheapest deals. They inspect the cars they sell, provide a money-back guarantee, and provide a limited warranty. Many people consider Carmax cars to be a bit overpriced, but you get a little extra peace of mind for your money.
New-Car Bargains
– Don't overlook this year's (or last year's) brand new cars as a potential source of good bargains. There are currently tons of heavy rebates and other incentives being offered by car manufacturers, especially on domestic brands, and especially on last year's models, that can often make certain new cars temporarily less expensive than used cars of the same make and model. See
New Car Rebates and Incentives
.
Car Deal Finder 
–
Car Deal Finder
is an online service that makes it easy to find  new and used car deals.  They have helped millions of people find second hand cars at good deals all over the country. We like the search tool that allows you to locate cars in your area in the price range you want. If you are looking for cheap cars, they've already worked out discounted prices with the sellers, and make the buying process easy.
Lease a New Car
– If your goal is simply to get low monthly car payments, leasing a new car can be 30% to 60% less expensive than buying the same car with a loan – cut your payments in half. This allows you to drive a brand new car for the same or less money than you might spend on a late model used car. You can look at special promotional lease deals at
Best Car Deals
. The deals are genuinely good deals but you should make sure you can live with the term (usually 36 months), the annual mileage limit (usually 10K-12K miles per year), and the down payment, if any.
Car Lease Takeover
– Online services such as
Swapalease.com
offer car lease takeovers at bargain prices. These are almost-new cars being offered by sellers who are often desperate to get out of their leases. They need someone to take their car and their lease payments. If you can find a car you want, this can be the cheapest way to drive a good late model car. Payments can be very low compared to a new car loan, or even a used car loan. There's no down payment and sellers frequently offer cash back as an incentive for someone to take over their lease. These can be excellent deals.
Damaged Cars
– Low cost cars can often be found at sources of salvage Cars – damaged cars, although some repairs are often necessary. Salvage auctions and insurance auctions are another possible source of cheap cars and project cars for sale. Obviously, a lot of caution must be taken to make sure you know exactly what you're buying but, if done correctly, some great deals can be had this way. See our article,
Damaged Cars for Cheap Deals
, for more details.
Police Auctions
– Law enforcement agencies seize and impound vehicles from law-breakers and sell them at public police impound auctions, for bargain prices. Many are high-end late-model luxury vehicles in perfect condition. These agencies also sell surplus vehicles that are being replaced with newer vehicles. These auctions are conducted regularly and are open to the public. See our article,
Police Auctions
, for more details.
Repossessed Cars
–
Repo Car Sales and Auctions
are a good source of cheap cars. Banks repossess cars from customers who stop making payments and default on loans. They must sell these repo cars to recover the remaining loan balance. Bargains are not difficult to find if you know how and where to look. See our article,
Repossessed Cars
, for more details.
Unclaimed and Abandoned Car Auctions
– Cities and towing companies pick up unclaimed abandoned vehicles every day from the sides of streets, highways, and parking lots. They try to find the owners, but if they can't, the cars are sold at auction, often for almost nothing. The cars can range from junkers to almost-new vehicles. See
Unclaimed and Abandoned Car Auctions
for more details.
Rental Car Sales
– Rental car agencies, such as Enterprise and Hertz , often dispose of late-model vehicles in public sales. Many people use this method regularly for buying their family cars. Prices are often lower than at used-car dealers because rental companies are not trying to make a profit. However, many of the vehicles may have high mileage and undisclosed problems.
Purchase from Individual
– You can find cheap used cars being sold by individuals by searching newspaper classifieds, web sites such as AutoTrader, on supermarket bulletin boards, and at local car sales consignment lots. Many are being sold at low prices for a good reason. In many cases, these cars have problems that the seller is not disclosing. Or the seller could simply be desperate and needs the money fast. Such cars are sold "as is" which means you have no recourse if problems come up.
Get a Used Car Dealer's License
– This is not a solution for everyone, but it can work for some. The idea is to get a used car dealer's license, go to dealers' car auctions, and buy cars at wholesale prices — even buy and sell for profit. Since state laws determine how to get a dealer's license, you have to know how to do it. Here is an article that explains how to
Buy and Sell Cars for Profit
.
Watch out for online car buying scam
Be aware of a common car selling scam in which an online seller offers a nice car for a price that seems too good to be true. This scam is very common on web sites such as Craigslist and Autotrader. It is almost impossible to spot the scam from the ads, except that the price seems to be unbelievably low. If you fall for the scam, you'll lose your money and you'll never see the car you "bought."
Get your car inspected
Regardless of where you decide to buy your cheap car, you should have the vehicle thoroughly inspected, whether you do it yourself or hire someone to do it. By doing so, you'll protect yourself from making serious mistakes that can't be corrected later. Look in your telephone yellow pages for "vehicle inspection service" or go to a local car service shop. Although there will be a small cost, it's a good investment. Also get a CARFAX Vehicle History Report to make sure your car doesn't have a hidden salvage title and has never been wrecked.
SEE THE NEWEST WHEEL STYLES FOR YOUR CAR at Tire Rack.!
If you need a loan
Used car loans are available from banks, credit unions, and online loan companies such as Auto Credit Express, that specialize in getting auto loans for people with poor credit. If you have bad credit, getting approved might be difficult, though not impossible. It's best to get preapproved so that you'll know exactly how much you are allowed to borrow. Read our article, Bad Credit Car Loans, for more information.
Best prices on brand new cars
Car manufacturers are constantly offering rebates and other incentives that make some brand new cars cheaper than late model used cars. It's easy enough to ask for free no-obligation price quotes from local dealers to find out. Try Edmunds
 for some of the best prices from dealers in your area.
Summary
Cheap cars are available from many different places including consignment lots, police impound auctions, government seized and surplus auctions, repossessed vehicle sales, online used car web sites, and rental car sales. You may have to invest a little time and effort to find them but the results can be rewarding.