Types of Car Warranties
New-car warranty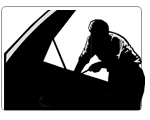 New-car warranties generally come in two parts: a general ("bumper to bumper") warranty, and a "powertrain" warranty, which often covers a longer period of time than the general warranty. There may also be separate warranties for rust corrosion, emissions system, restraint system, tires, and battery. The Owner's Manual for a new vehicle will spell out all of these coverages.
General warranties are typically for 3 years or 36,000 miles, whichever comes first, although some car companies offer longer terms. These warranties cover just about everything on the vehicle that is not covered by another warranty. They don't cover normal wear-and-tear items and other items that are specifically listed in their "exclusion" clause. Since all manufacturers' warranties are different, you should consult the Owners Manual that comes with your car, or contact the manufacturer directly to understand your coverage.
Powertrain warranties are for a longer period, say, 60,000 miles or 60 months and cover the engine, transmission, transaxle, and drive system — parts related to getting power from the engine to the drive wheels. Again, coverage varies by manufacturer. Just remember that after your general bumper-to-bumper warranty expires, only the powertrain warranty is in effect, which only covers a relatively small portion of your vehicle.
Extended warranty
We are all aware that vehicle repairs are expensive, inconvenient, and that most problems will typically occur after the manufacturer's warranty has expired. Manufacturers know precisely when most of their problems will occur — and it's not while their new-car warranty is in effect.
An extended warranty is especially important if you are leasing or buying your car for a term that exceeds the number of months in your car's "bumper-to-bumper" general warranty coverage. If leasing, you don't want to have major expenses repairing a car that doesn't belong to you. If buying, you may want to have protection after the manufacturer's warranty has expired.
This is where extended warranty companies come in. They typically offer even better coverage than factory warranties in most cases, including wear-and-tear coverage, fewer "exclusionary" parts, rental car reimbursement, and roadside assistance. Buying the extended coverage near the time you acquire your new car can save you money (prices generally increase with time and age of your car).
Who sells car warranties?
Extended warranties are commonly sold by dealers. But be aware that dealers resell warranty packages from independent companies, and make a huge profit in the price markup. If you know where to shop, you can typically find the same or better warranty packages directly from a warranty company — and at a much lower cost.
Extended warranty companies, such as Warranty Direct® and Endurance Auto Warranty
are generally much easier to deal with than car manufacturers, and offer a variety of protection plans and prices. And you can get your repairs done just about anywhere. Most plans will also cover the cost of repairing "secret" (Technical Service Bulletin) problems as well, without haggling with a dealer.
Choosing a car warranty company
Since warranties are their business, the success of any extended warranty company depends on having satisfied customers and having a good business reputation.
The worse possible scenario is to have to deal with a warranty company that doesn't fulfill their promises and fails you when you need them the most.
Therefore, it is recommended that you choose a warranty company that:
Has been in business for years and written thousands of policies (stay away from new companies that may not be around when you need to file a claim)
Has a proven customer track record and solid BBB history (the company is trustworthy, has a good reputation, and can be counted on when needed)
Has substantial assets (so that they can pay off when required)
Is accepted by car dealers, banks, and credit unions (so that you know they are not just a fly-by-night Internet reseller or broker)
Offers a variety of coverage plans (to meet your specific needs and budget)
Fully explains their plans with details, not just vague promises (so that you know what you're buying)
Offers a detailed written copy of their terms and conditions (so that you know exactly what is covered and what is not)
Covers all 50 states (provides you coverage no matter where you happen to have a problem)
Is flexible in where you can get repairs done
Has a money-back guarantee (in case you feel you didn't get what you paid for)
While we haven't evaluated every warranty company out there, we can recommend that you seriously consider those we mentioned earlier in this article. These are both companies that meet and exceed all our qualifications. Be sure to read their "Company Information" pages. We suggest that you get a free quote from both and compare to get the best deal.