Car Auctions for Cheap Cars
Where are the car auctions?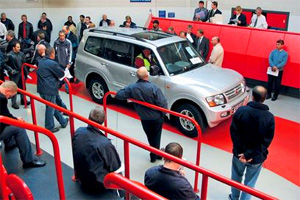 There are a number of different types of auto auctions, conducted by a variety of types of auction companies. Each auction is different: different rules, different type of vehicles, different restrictions on who can participate, and different payment methods.
Some auction companies restrict all or some of their auctions to licensed car dealers. Others may conduct completely open auctions, open to anyone, including dealers.
Let's take a look at the types of car auctions:
1. Small local auctions
Nearly every community has car auctions conducted by small independent businesses. Some are tow companies or body shops who have auctions when they accumulate enough vehicles to make it worthwhile. They usually announce the auction date and time with a sign out front of their business location. Some may have a web site.
These small auctions are usually very informal and may have flexible rules for inspection, bidding, and paying. If you are interested in attending this kind of auction, contact your local towing companies to ask about schedules and rules.
There are also larger local auction companies that auction cars for individuals, tow companies who don't have their own auctions, repair shops, and local banks and credit unions who are reselling repossessed cars. Find these companies online, in the Yellow Pages, or simply ask local repair and body shops.
2. Large national auctions
National auction companies such as
Manheim, Copart, ADESA, IAA
, and others conduct auctions regularly all over the U.S.. They handle repossessed cars being sold by banks and finance companies, as well as cars from dealers, insurance companies, and rental car companies. Many are open to the public; others only for licensed dealers. All these companies have web sites on which you can find out about upcoming auction locations and schedules. The web sites also explain rules and registration requirements.
3. Government auctions
These are auctions conducted by or for local, state, and federal government agencies. Many include cars, trucks, vans, and other motor vehicles, as well as possibly other types of property. Vehicles being sold may be "surplus" — old and being replaced by newer vehicles, or vehicles that have been seized from criminals. Obviously, the age, mileage, and condition of these vehicles can range from junk to pristine.
Government auctions are conducted all over the country. A good source of information can be found at the U.S. Government Sales and Auction web site. You can also check out this web site, Government Auto Auctions by AuctionsPass.com.
4. Online Auctions
The most popular online car auction web site is eBay Motors. They sell hundreds of vehicles every day.
Generally speaking, it's not a good idea to buy automobiles that you can't see, can't drive, can't inspect, and can't talk face-to-face with the seller. However, eBay has taken most of the risk out of such transactions, as proven by the success they've seen in the number of cars moving through their site every day. They make sure that sellers and potential buyers can easily communicate, that inspection services are available, that funds are protected by escrow accounts, and that transportation services are there if needed. Their buyer/seller protection plan is top-notch.
The biggest risk to buyers bidding on cars on eBay, or any other auction, is over-bidding on price. In the excitement of an auction, it's easy to do. Of course, a fair price is whatever you are willing to pay — and whatever the car is worth to you.
Can I get a bargain buying a car at auction?
Certainly, but not always. The auction environment is not one that necessarily guarantees bargain prices. First, you can't know exactly the condition of the car you buy since you can't fully inspect it or drive it. Second, it's possible to get carried away in the frenzy of bidding and end up paying way too much. Third, don't forget about buyers premiums and fees that might turn a good bargain into a not-so-good buy.
In auctions in which there are both dealers and non-dealers individuals competing, the dealers are more experienced and know when to stop bidding on a particular vehicle. They won't go over wholesale value. Non-dealer individuals can bid higher and win, but they'll be paying near retail price — the same price they could get at a dealer — not a bargain.
Buying cars at auction is generally a bigger risk than buying elsewhere. Dealers who regularly buy cars at auction can afford to get an occasional "lemon" but an individual buying only one car may not be as willing to take that chance.
Find cheap cars at Government auto auctions from Gov-Auctions.org.