Choosing the Best GPS Navigation System for Your Car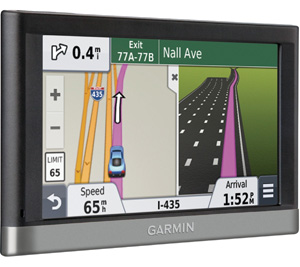 Automobile GPS navigation systems provide drivers with dynamic street and highway maps, driving directions, and directories of restaurants, hospitals, car services, and other points of interest (POI). Voice prompts and alerts let the driver keep his attention on the road.
The newest and best GPS systems have full-color 3-D street maps, traffic alerts and rerouting, integrated hands-free cell-phone use, and easy touch-screen controls. Some of the best models, such as the popular Garmin nüvi 2557LMT
have wide-screens, FM transmitters so that you can hear your voice prompts and alerts through your car sound system, Bluetooth wireless connection to your cell phone, theft prevention features, lifetime traffic, lifetime map updates, long-life battery operation, and more.
Many such devices also have important safety features such as "where-am-I" function that let you pinpoint your exact location to 911 operators in case of an accident or emergency. They also allow you to quickly find the closest hospitals or police stations.
People who use a GPS navigation system for the first time are usually amazed at the device's incredible accuracy and almost-magic capabilities. They often wonder why they didn't get one sooner and how they could possibly do without one in the future.
There are three ways to acquire a car GPS system
One way is to buy a new vehicle with the navigation system already installed. The second method is to buy an aftermarket in-dash unit that replaces your standard radio or sound system. And the third method is to buy a separate portable unit, such as those by Garmin and TomTom, that can be easily carried or mounted to your vehicle's dash or windshield.
There are advantages and disadvantages for each method
Built-in GPS navigation systems offered as standard equipment or as options on new vehicles are more expensive than add-on units, often much more expensive. However, the LCD screens are usually larger, allowing for better visibility and greater detail. The navigation system's LCD display is usually shared with other systems in the car, such as radio, climate control, and hands-free cell phone. Also, with built-in units, the antenna and power attachment are already built-in and part of the vehicle.
A disadvantage of built-in navigation systems is that they are usually a year or two behind in new features and map updates. Map updates are usually offered annually and must be purchased at a dealer — and are much more expensive than those for a portable GPS device. The updates cannot be downloaded by computer, as can those for a portable device. Most new-car makers now offer built-in GPS navigation systems in at least some of their models and are relatively expensive compared to portable devices. Many are only offered as part of a upgrade "package" making it even more expensive, especially if that's the only part of the package you want.
Add-on in-dash GPS navigation systems replace a vehicle's normal radio or radio/CD player and typically include a large LCD display, navigation system, AM/FM stereo, and CD player. Some even include a DVD player to watch movies on the LCD screen (not while driving, of course). The LCD folds into the unit when not being used.
These systems are moderately expensive, should be installed by professionals, and usually require installation of an outside antenna. These are not good for leased vehicles since vehicle modifications are not allowed. These systems cost less than new-car built-in units but cost more than portable units. The Pioneer AVIC-8000NEX
is an example of a excellent in-dash add-on GPS unit with a full set of features, including a large 7-inch touch screen.
Portable automobile GPS navigation systems , such as those from Garmin and TomTom, have more flexibility in where and how you use it, the ability to swap the unit from one car to another, generally have more features, and are less expensive than a factory-installed built-in or add-on units. If you frequently rent cars, drive business or leased vehicles, or trade cars often, a portable unit is a great solution.
Portable GPS units come with a wide variety of features and screen sizes — and a broad range of prices, depending on your needs. Some are wide-screen, some standard screen. Most offer voice-guided point-to-point navigation, latest maps, some with lifetime updates, and extensive point-of-interest (POI) databases. Many have features such as Bluetooth connection with your cell phone while driving. Others have music players and photo displays. Some models offer real-time traffic display, usually for a monthly subscription fee, but sometimes free.
The Garmin nüvi 52LM
is currently the most popular and highest rated portable GPS vehicle navigation device. It comes with lifetime map updates, 5-inch touchscreen, voice prompts, lane assist, and a car windshield mount. It's also very reasonable priced on Amazon.
Most portable GPS navigation systems easily mount to a vehicle's dash or window, allowing quick removal when not being used. A power cord is provided to allow in-car operation without using a device's internal battery. Most modern devices have powerful satellite receivers and built-in GPS antennas, eliminating the need for an external antenna. If the device has a traffic monitoring feature, it may require a power cord connection, as the feature doesn't work in portable mode.
It's easy to update portable GPS devices with new maps and updated software by attaching it to your PC and downloading from the manufacturer's web site. Unless you purchased a unit with lifetime free map updates, you'll pay a fee for any downloads.
Tracking Devices
Another growing use for GPS systems is for tracking vehicles. Car tracking devices are often used by parents to track teenage drivers, by companies to track delivery vehicle routes, and by sales people to record vehicle use for tax purposes. These small unobtrusive devices use GPS to periodically record vehicle location, speed, stops, routes, and times. Depending on the system, the data can be viewed in real-time on a PC, or downloaded from the device later. The most popular such device on Amazon is the Spy Tec Mini GPS Tracker
.
Summary
When buying a car GPS navigation system, look for ease of use, voice directions, updatable maps, and a bright screen. A touch screen helps if you have to interact with the unit when driving. Some all-in-one (AIO) portable GPS units now offer travel-related features such as traffic, language translators, MP3 music players, audio book players, and more. If you don't need all the extra features, buy a lower priced unit that performs the basic functions as well as the more expensive units. To mount your GPS in a vehicle, look for a unit that provides a mounting method that will work in your particular vehicle.