Does it make a difference what car you lease or buy?
Choosing a new car is more than selecting price, style, and color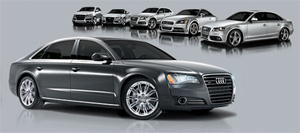 If you're not a "car person" you might easily assume that most car brands pretty much the same except for price and design details — that Ford is about the same as Chevrolet, which is the same as Toyota, the same as Honda, same as Hyundai, same as Audi, same as Chrysler, and so on and so on.
But the fact is, that there are significant differences between car brands and models that should be considered when making a buying or leasing decision.  Let's take a look at how brands can differ:
Purchase or lease price
This is the factor that almost nobody overlooks. Brand new car prices range all the way from about $12,000 MSRP to well over $100,000 MSRP.  In general, the old maxim, "You get what you pay for" applies to automobiles as well as many other products.  The average new-car price this year is about $35,000. You can't expect much from a $12,000 car in the way of luxury, performance, safety, or overall comfort.  However, some brands provide a lot of value for a relatively price. Hyundai and Kia are currently the leaders in that respect.
Insurance cost – The cost of insurance can vary considerably, depending on car make and model, due to differences in repair cost, replacement cost, frequency of accident claims, and frequency of theft. Insurance is cheapest for those vehicles that are not wrecked as often, have plenty of safety features, that are relatively inexpensive to repair, and are not stolen very often. Mid-sized 4-cylinder sedans from Honda or Ford would be good examples. High powered luxury sports cars would have the highest insurance costs. Two-door coupes cost more to insure than sedans, SUVs, and minivans.
Residual Value – Residual value, or resale value, is important in leasing or buying. In leasing, a vehicle with a history of high residual values will have the lowest monthly payments. In buying, vehicles with high residual values will bring more money when sold or traded, which lowers your long term cost. Generally, those vehicles with the highest reliability and customer demand have the highest residuals. Examples are the Honda Accord, Jeep Wrangler, Lexus ES, Toyota Camry, and Ford Focus.
Reliability – Brands such as Honda and Toyota with a history of high quality and reliability will cost less to own and operate. Repair costs will be low, with low inconvenience and time in the shop due to problems, and resale/trade values remain high. Reliability and quality are two ways in which different vehicle brands vary, sometimes by a wide margin. And it's one of the factors that should be very important in a car purchase or lease decision, but rarely is. Consumer Reports magazine publishes reliability rankings for all car makes and models, including most used cars.
Safety – Crash test results vary widely between different vehicle makes and models. Some have a history of safety recalls by their manufacturer. Safety equipment and features such as multiple airbags and electronic stability control can be very different on different vehicles. Equipment such as back-up cameras, collision avoidance, and blind-spot monitors are not yet universally available on all vehicles but are typically available as options.
Fuel Economy – This is another area where there are large differences between car makes and models. Generally, smaller cars with smaller engines have the best fuel economy. The government requires miles-per-gallon (MPG) specs be printed on every new car window sticker. Hybrid vehicles generally offer the best fuel economy, although usually at a higher cost.
Performance – Cars with small 4-cylinder engines don't perform like a 6-cylinder or 8-cylinder car. Most people won't be drag-racing their cars but do want adequate acceleration when merging in traffic or avoiding potential accident situations. Some cars are actually underpowered and are not safe driving on interstate highway conditions. Conversely, an overpowered V8 engine car might be difficult to drive safely in wet or snowy weather conditions. Driving performance can be affected, depending on whether the vehicle is AWD (all wheel drive), 2WD (two wheel drive), FWD (front wheel drive), or RWD (rear wheel drive).
Driving Comfort – Some vehicles are very comfortable to drive while others are not. This is an important consideration if a vehicle will be used on long trips or used several hours each day. Some cars have sub-standard seats, few seat adjustment positions, hard to reach controls, stiff suspension (harsh ride), lots of road noise, or difficult steering — all making them very uncomfortable to drive. Smaller economy cars tend to less comfortable than larger luxury vehicles.
Convenience – Some cars offer more convenience features than others — features such as push button starting, keyless door locks, rain-sensing wipers, cruise control, self-dimming mirrors, seat heaters, seat position memory, power seats, GPS navigation system, multi-CD player, satellite radio, and backup camera. Many times, such features are offered as "packages" that contain combinations of features. If you only want one of the features, you may have to buy an entire package with other features that you may not necessarily want.
Capacity – Vehicles vary considerably in passenger and cargo/luggage capacity. Some small vehicle have a surprising amount of cargo space, while some larger vehicles have limited space. Head room, leg room, and seating for extra passengers are also important considerations.
Hybrid / Non-Hybrid – Many car makes and models come in both hybrid and non-hybrid versions. Hybrids are more than simply more fuel efficient versions of their non-hybrid sisters. And there are a variety of different types of hybrids, some of which are more electric than gas powered. Hybrids generally cost more, making the cost versus fuel savings analysis not so cut-and-dry.
Summary
When making a car buying or leasing decision, it's important to consider all the ways in which vehicle makes and models are different — and which best fits your needs. Using the Internet to do your homework is the best way to do it. Use sites such as Edmunds.com
, ConsumerReports.org, Kelly Blue Book, Cars.com.
Also use our Car Deal Finder service., which is free. Also review car magazines such as Automobile, Motor Trend, and Car and Driver, and their associated web sites for reviews. Consumer Reports annual Auto Issue, in April every year, is dedicated to reviews and ratings on all vehicle makes and models. It's a great resource for automotive consumers.