What auto insurance is required to lease a car?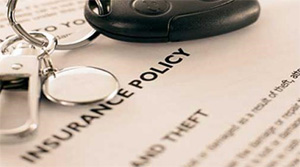 Most car lease companies require you to maintain full-coverage auto insurance to protect both you and themselves. This means both liability and collision/comprehensive coverage.
The details of exactly what and how much is required is specified in the small print of your lease contract. Specifics can vary by lease company.
The amount of coverage specified in your lease contract is a minimum required amount, and is often inadequate in these days of large car accident legal settlements. You can always purchase more coverage if you you feel the lease company's requirements are not sufficient protection for you.
Some lease companies require as little as $20,000/$40,000/$5000 liability, which might not even meet some states' legally mandated minimums. This is explained as follows:
Liability coverage: $20,000 per person / $40,000 per occurrence
Property liability coverage: $5000
Comprehensive and collision for actual value with no more than $1000 deductible
In Canada, $1,000,000 in liability coverage is required
Other companies may require as much as $150,000/$300,000/$50,000 liability coverage. Generally this higher level of coverage is more common.
This may be more coverage than you would normally buy, which could mean an additional leasing expense — unless you know how to get better rates. Most people are already paying too much for insurance, before they lease — for less coverage.
With a little shopping it's not difficult to get the additional coverage for the same cost as your previous coverage.
What's the deal with car insurance when leasing?
When you lease, your vehicle belongs to the lease company. They want to make sure that their investment is covered should you have an accident that damages or destroys the vehicle, or if the vehicle is stolen.
They may also want you to have sufficient liability coverage in case you are at fault in causing an accident. This not only protects you from financial disaster, but it also protects the lease company if they should be held partly responsible.
Having sufficient car insurance coverage is smart whether you are leasing or not. Consider an "umbrella" policy.
Many people attempt to get by with only the minimum insurance coverage required by law but it's a big risk since there's so much to lose. Accidents do happen. Large lawsuits are common. If you have insufficient car insurance coverage, you can be personally sued for additional money after your insurance has paid. Be aware that buying only minimum required liability insurance coverage violates the full-coverage requirements of your lease contract.
How to minimize insurance costs
What most people don't know is that they are probably already paying too much for their car insurance. It's too easy just to stick with the same company you've been with for years, even though rates are lower elsewhere. Rates change frequently. One company can have the best rates one year, another the next year.
So, if you intend to lease and the insurance coverage requirements are higher than you currently have, you can nearly always get the higher level of insurance at about the same rate as you are currently paying by simply investing a little time shopping and comparing quotes from a few other insurance companies, asking for discounts that you already qualify for, and adjusting your coverage to your current situation.
Don't expect your current insurance company to voluntarily offer you discounts that you might qualify for. You have to ask.
Insurance companies offer a variety of discounts based on driving records, whether you other insurance with the same company, having multiple cars, what safety equipment is installed on your cars, and such. Of course, vehicle make/model, repair costs, claim history, driving record, and driver age also affect insurance costs.
Even your credit score can affect your rates with many auto insurance companies. Drivers with a low credit score will pay more for insurance than drivers with better scores. You should always know your score. You can see your current credit report and FICO® score from Experian
.
The vehicle you buy or lease can have a huge effect on your insurance rates, regardless of which company you choose. A Honda Accord will cost you less to insure than a Cadillac Escalade, not only because the Honda is a less expensive vehicle, but because the Escalade is one of the top most-stolen vehicles in the country. Sports car cost more to insure than 4-door sedans. Sporty 2-door coupes cost more than SUVs. Luxury cars cost more than economy cars.
Is it possible to find dirt-cheap car insurance? No, but you can minimize what you pay by shopping smart and asking for discounts. Rates between different insurance companies vary greatly.
Here are some of the possible discounts you should ask about. Be aware that all auto insurance companies may not offer all of these discounts.
[ ] $500 deductible
[ ] $1,000 deductible
[ ] More than one car
[ ] No accidents in 3 Years
[ ] No moving violations in 3 years
[ ] Driver training courses
[ ] Defensive driving courses
[ ] Anti-theft devices
[ ] Good credit score
[ ] Low annual mileage
[ ] Air bags
[ ] Anti-lock brakes
[ ] Traction and stability control systems
[ ] Daytime running lights
[ ] Student drivers with good grades
[ ] Auto and homeowners coverage with the same company
[ ] College students away from home
[ ] Long-time customer
[ ] Other discounts
The key to car insurance savings is not the number of discounts, but the final premium cost. A company that offers few discounts may still have lower overall rates.
You won't be able to drive your leased car off of the dealer's lot if you don't have proof of insurance that covers your new vehicle. Since leasing requires you to have full coverage insurance and rates vary widely for such coverage between insurance companies, it pays to get free quotes from different companies.
Get a free online auto lease insurance quote from Esurance & start saving today!
Car insurance companies are all different
It's important to re-examine your car insurance at least once a year and every time you acquire a new car. Insurance companies frequently change their rate structures. A company that offers the best rates today may be the highest cost company after they raise their rates. Rates for a particular car make/model can vary between companies.
Furthermore, a company that offers the best rates for minimum-coverage, high-deductible insurance may not offer the best rates for the higher level coverage you need for leasing. Actually, you may be able to find a car insurance company that offers high level coverage for about the same rate as another company's low level coverage.
Recommendations
Before the Internet came along, it was quite a chore to shop for auto insurance. Now, it's a breeze because most companies have web sites.
Insurance brokers are also online, making it extremely easy to get multiple quotes from different companies from a single source. They save you the trouble of contacting individual insurance companies because they do it for you. The services of these online brokers are free to consumers. They make their money from the insurance companies.
You are under no obligation to accept any quote offered by these companies. There are no fees or costs involved to get quotes from them. It's a no-lose deal. If you don't get rates you like, you can shop elsewhere.
When asking for a quote, you'll get the most accurate quote if you provide all the information requested, including your social security number. If you choose to withhold some of this information, you can still get a "ballpark" quote, but that rate could change once you provide all your information later.
Because some companies base rates partially on credit scores, providing your social security number allows the company to access your credit records for a more accurate quote. These credit inquiries are considered "soft" inquiries and do not count against your score.
Here are the online car insurance companies and brokers that we recommend.
   Esurance
  is a relatively new company, established in 1998, but have since become one of the fastest growing insurance companies in the country due to their innovative approach to providing good customer service and a good product. Get a quote from them. It's fast and easy.
Auto insurance is NOT break-down insurance
After you've selected car accident insurance, and you expect to still be driving your car after the manufacturer's warranty has expired, make sure you are also covered against expensive breakdowns and repairs that your auto insurance doesn't cover. Non-accident problems are not covered by normal car insurance. Do not buy over-priced high-profit warranties from car dealers.
We recommend Endurance Vehicle Protection, a well respected national direct-to-consumer auto warranty company for best vehicle protection. Get a quick free no-obligation price quote.
Summary
If you plan to lease your next car, or are already leasing, you know that lease companies require extended insurance coverage, which makes it important to shop for the best rates for that level of coverage. Your old insurance company might not be the best or the cheapest.