Which car is best as a first car? What brand, model, style?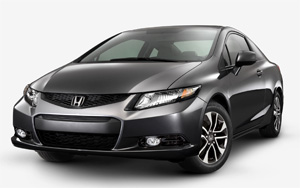 When choosing a good first car, the many choices can be confusing and bewildering. Which brand is best? Which model? Which car is least expensive? Which costs less for insurance? Which car gets the best gas mileage? Which is the most popular with other drivers buying their first car?
Our Recommendations
Although we realize that there is no single "best first car" that fits everyone's tastes and budget, you should start by looking at a new or used Honda Civic, Toyota Corolla, Scion iC/xB/tC, or Mazda3. These are some of the most popular "first cars" being chosen today by new drivers.
Why? What makes these models so popular?
Because these vehicles have all or most of the characteristics that new drivers are looking for in a first car:
• Inexpensive to buy
• Inexpensive to drive and maintain
• Very reliable
• Good performance
• Good gas mileage
• Easy and fun to drive
• Good styling
• Safe with many safety features
• Inexpensive insurance
• High resale values
If you can afford a brand new model of these cars, there are great deals being offered right now because car companies have some outstanding customer incentives such as rebates, low interest loans, and special lease deals. For more details, see Best Car Deals.
If you can't afford a brand new car, prices for previously owned models of the above cars are very reasonable. Buy the newest model you can afford, with the lowest mileage.
Even though some brands such as Honda, Toyota, Mazda and other Japanese brands are generally very reliable, don't buy any vehicle with more than average mileage for its age. About 15,000 miles per year is considered average. For example, for a car that's 4 years old, don't buy if it has more than 60,000 miles unless you have it thoroughly inspected by a mechanic first.
Other Recommendations for Best First Car
Other good choices for an economical first car are Ford Fusion, Hyundai Sonata, Kia Optima, Nissan Altima (4-cyl), Ford F-150 or Chevrolet Silverado trucks, Honda Accord, Toyota Camry, and Subaru Forester. These are all vehicles that have good reliability histories, are economical, and have relatively low insurance costs.
Two sporty new cars that are popular as first cars are the Scion FR-S and it's almost identical twin, the Subaru BRZ.
In a higher price range, you could consider a Lexus ES, Acura TSX, Mercedes C-Class (4-cyl), Audi A4, and Infiniti G (now Q). Although price and insurance are a bit higher for these vehicles, resale value is high and cost of operation is low.
See the newest wheel styles for your car at Tire Rack.!
Cars We Don't Recommend
Notice we haven't mentioned any high performance coupes such as the Mitsubishi Lancer Evo or sporty convertibles such as the Mazda MX-5 Miata — high insurance cost. We haven't mentioned any Chrysler/Dodge/Jeep vehicles — generally low reliability. We haven't mentioned any SUVs, even smaller models — safety risks for inexperienced drivers.
As a first car, we suggest avoiding most BMW, Chevrolet, Pontiac (discontinued), Saturn (discontinued), Mercury (discontinued), and Volkswagen vehicles — spotty reliability — unless you have the vehicle checked over by a qualified mechanic.
Some brands of vehicles are not generally purchased as first cars because they are considered a bit stuffy, not very stylish, or old fashioned — Buick, Cadillac, Volvo, Mercury (discontinued), Saab (discontinued), some Lexus models, and most Infiniti models.
Financing a First Car Purchase
Many first car buyers don't have the necessary hard cash to purchase a vehicle and will need a loan. If the buyer is young with no credit history, a co-signer may be needed. The co-signer needs a good credit score to qualify.
If you or your co-signer don't know your credit score, you should. Your credit score is the most important part of getting approved for a car loan. What's your FICO score? Find out now when you check your credit report for $1 at Experian.com!
You should never learn your credit score for the first time from a car dealer.
If a buyer or co-signer has good credit, you can arrange a loan with a car dealer's finance company (new cars), a bank or credit union, or an online auto loan company. You can also consider an online lender such as Auto Credit Express that specializes in loans to people with credit issues.
Leasing may also be an option , but also requires good credit. Leasing is only available for new cars, not used cars. If you think you might want to lease, make sure you check out our Lease Guide first.
Summary
We've given you our recommendations for a best first car and told you why these vehicles are good choices. We've also listed vehicles that are not good choices as a first car.