How to Get Best Car Prices in 2018
Whether you buy new or used, lease or buy, you should try to get the best possible deals on your car.
Car prices are not like hamburger prices at McDonalds where the same burger costs exactly the same every day in every location. Car prices can vary day to day, dealer to dealer,  location to location — and can be negotiated.
So how do you get the best car prices?
New Car Prices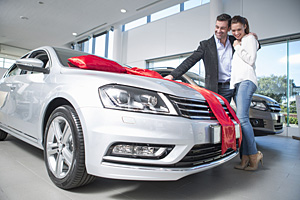 Car manufacturers set the MSRP (Manufacturer's Suggested Retail Price) on all new cars. It's the same for every car of the same make and model with the same equipment. It's the price you see on the window sticker. The word "suggested" implies that dealers don't have to sell at that price. In fact, very few cars are actually sold at "sticker" price. Most are sold for less, although some are sold for more if it's a hot new car in high demand.
Because the new-car business is highly competitive, good deals are not hard to find, although a bit of negotiating might be required. However, some of the best car deals are ready-made and available for the taking — without stressful negotiating.
How so?
First, because dealers are competing with each other for your business, they discount their prices in an attempt to create attractive deals. By doing so, they eat into their profit margins. However, they can't sell at or below their cost (invoice price) unless they are making profit in some other way — or by getting financial help (incentives) from their manufacturer, in the form of direct-to-customer rebates, factory-to-dealer cash, bonuses, low interest rates, and special lease deals.
Therefore, the best new-car deals are those that combine dealer discounts with manufacturer incentives.
Where to find the best new-car deals?
You can go on car company web sites and look for "current offers" on specific models and styles. But these don't include any dealer discounts and often aren't available in some parts of the country.  The deals may not be offered by some dealers.
The easiest and fastest way to find the best ready-made car deals in your area is with our Car Deal Finder where you can request free price quotes from multiple dealers in your area. Then use Edmunds.com
 to find out just how good those deals are by viewing other dealer prices.  This is the smartest and most convenient way to shop for a new car.
Is it possible to sweeten these ready-made car deals?
Sometimes.
If a dealer hasn't made a full contribution to the deal with his own discount, you might be able to wrangle a bit of extra price reduction if you have good negotiating skills. However, a dealer can't negotiate manufacturer incentives.
Be aware that dealer price quotes include "destination" charges that are standard on every car, but do not include dealer "doc" fees or official fees for tag, registration, and title.
After you've arrived at your dealer and accepted your great deal, be careful of blowing it away in the Financial Manager's office. Part of his job is to attempt to sell you additional high-profit products and services that are often not worth the cost. Examples are: extended warranty (not needed on a brand new car), security devices, credit insurance, window VIN etching, paint sealant, fabric protectant, rust proofing, and maintenance contracts. If you think you want or need any of these items, you can often find them cheaper elsewhere.
Used Car Prices
Used car prices are quite a different animal than new-car prices.
There is no equivalent of MSRP on used cars. Nobody sets used car prices except the seller or dealer. Cars that are  exactly the same in every way can have widely different prices from different dealers.
However, no two used cars are ever exactly the same in every way, which makes for even greater price variations. Cars of the same make, model, and age can have different equipment, be in different condition, have different mileage, and have different problems.
Dealer's price their used cars based on several factors, typically depending on how much they paid for them and their profit objectives. New-car dealers who also sell used cars usually make more profit on used car sales than on new car sales.
Used car buyers should know that dealers set "asking" prices on their cars that allow for some negotiating room with buyers. If a customer "talks down" the price a bit, both he and the dealer can feel like they got a good deal.
Many used car buyers use car value guides such as Kelley Blue Book or NADA Guides to research prices. It's important to know, however, that dealers don't use those guides in pricing their cars. This can frustrate buyers when dealers' prices don't agree with prices in value guides.
There is nothing "standard" or "set" about used car prices. Prices can vary greatly between different dealers in the same city or the same region, which is why it is important to spend time shopping for the best deals.
How to find the best used car deals?
One way is to drive all over town visiting different used car lots, or taking your chances on Craigslist. But the easiest and fastest way is to use our online Car Deal Finder and get price offers from several dealers who are competing for your business.
When you find a deal you like, go look at the car, give it a good long test drive, and if it's an older car, get it inspected by your own mechanic. Never take the word of a dealer that a car "has no problems." Unless they've inspected it themselves, which is rare, they simply don't know.
Even if you get a price you like, you might be able to negotiate a better deal, especially if your mechanic finds hidden problems. Many dealers will also let you see a Carfax vehicle history report that might reveal an accident for which you could ask for a price reduction.
Don't forget about car insurance
The best car deal is not the best if you are overpaying for insurance on that car. Regardless of what insurance company you've used in the past, insurance rates are constantly changing. One company might be have had the lowest rates last year, but another company might be better this year. It's advisable to check for better rates at least once a year.
We recommend Liberty Mutual Insurance
as one of the best and most respected insurance companies. They offer attractive rates and a 12 month rate guarantee along with customer-friendly discounts, and great claim service. People who switched from another insurance company saved an average of $509.
Summary
Whether you're buying a new or used car, the Internet has made shopping much easier. Without going all over town visiting dealers or even picking up the telephone, you can use convenient services such as our online Car Deal Finder or call 855-650-8173 to find and compare offers from multiple dealers at the same time.
If you are looking for special new-car lease deals currently being offered by dealers, please visit our Best Car Deals web site.